FIRE SAFETY
When it comes to Fire Equipment Maintenance...we tick all the boxes!
Fortifire places a significant emphasis on completing maintenance services on time, in the month that it falls due.
FIRE MAINTENANCE
We are so confident in our maintenance services, we will happily put you in touch with existing Fortifire customers who run businesses similar to your own. You can find out what we do for them and get a better understanding of how we can help you.
PLUMBING
NQTMV has merged with Fortifire giving us access to even more resources. Whilst we have a fresh new logo and banking details, NQTMV customers will continue to receive reliable, professional and cost effective plumbing and compliance services.
NOTHING REALLY CHANGES
We'll still contact you and ensure your annual services are completed when they are due.
Backflow Prevention Valves
Thermostatic Mixing Valves
Emerngcy Shower & Eyewash
ELECTRICAL WORK
Electircal maintenance, testing, thermography, repairs, installation, and upgrades. Out electrical supervisor is the guy other electrical companies call for advice.
ELECTRICAL WORK
If the job for the equipment you need uses electricity, then it is likely we've done it or we can do it.
Consolidate and get Fortifire to take care of your Fire Safety, Plumbing and Electrical requirements.
PASSIVE FIRE & FIRE DOORS
Fortifire are respected as a leader in Passive Fire Services. Our comprehensive reporting system allows for consolidated reports that make compiling the Schedule of Evidence simple.
PASSIVE FIRE & FIRE DOORS
For major projects, we can work with the principal to provide real time data regarding the compliance status of each penetration as the work on site progresses.
FIRE EXTINGUISHERS
Value for money, reliable, high quality and traceable equipment. Every extinguisher that we supply and/or maintain is inspected, weighed and bar coded.
FIRE EXTINGUISHERS
If you have invested in this important safety equipment, you want to feel comfortable that it will serve its' purpose in an emergency.
EMERGENCY & EXIT LIGHTING
An often neglected but important element in providing building fire safety. A correctly designed system is made up of individual light fittings, each having a special classification that must be maintained.
EMERGENCY & EXIT LIGHTING
Don't be fooled or misled – make sure your provider has the correct qualifications for the work they are undertaking.
Fortifire hold a Category 1 QBCC licence which means we can Certify Emergency and Exit Lighting.
EMERGENCY PROCEDURES
Not sure what the difference is between an Evacuation Plan and an Evacuation Diagram?
Do you require staff training and a way to track it? Are you required to have a Fire Safety Adviser?
EMERGENCY PROCEDURES
Fortifire uses state of the art software to draft scale plans, locate fire equipment, generate egress paths, develop Emergency Procedures, provide online training and staff training records. For something really special, what about our virtual 3D Evacuation Models of your own building?
SMOKE ALARMS
Is your home or rental property compliant with the Queensland Smoke Alarm Legislation?
Are you sick of smoke alarms false alarming or beeping?
Trust a professional Fire Safety company to help you.
Smoke Alarms
Don't be fooled by the fine print. There are a number of companies out there claiming to be qualified for the work.
Fortifire holds the required Certify category QBCC licence to install or make changes to smoke alarms.
CUSTOMER PORTAL
Fortifire is constantly improving, developing and enhancing our Customer Portal. Customers can access Test Records, Invoices, Compliance Status Reports, Annual Condition Reports and so much more.
CUSTOMER PORTAL
A wonderful tool that allows customers to access compliance details and status of their assets.
The portal is especially useful for customers where Fortifire provides services at multiple sites.
Fire Safety, Plumbing and Electrical Services
Providing a range of
Commercial, Industrial  & Residential Services
 Please contact our office should you require more information about our services.
Scroll down to our contact form and send us a quick message. You can also send an email or give us a call – those details are at the top of the page. 
Fire Safety
We are so confident in our Fire Equipment Maintenance services, we will happily put you in touch with  existing Fortifire customers who run businesses similar to your own so that you can find out what they think of our services and how we help them. 
Use this checklist to help identify all the equipment on your site that needs to be inspected and tested regularly.
Passive Fire and Fire Doors
We are highly regarded as experts in this field of building fire safety. Customer feedback indicates our Passive Fire Reports are superior to anything they have seen. Once a customer has experienced our Passive Fire Services capabilities, their only disappointment is that they were not using us before!
Electrical Testing
Safety Switches (RCD), Portable Appliance Test and Tagging, Thermographic Scanning of Switchboards, Electrical Safety Audits.
Plumbing
Fortifire is QBCC Licenced to carry out Plumbing Services. We are North Queenlsnads leading provider of Backflow Prevention Valve and Thermostatic Mixing Valve Annual Certification Services.
Smoke Alarms
Fortifire is QBCC Licenced to certify work involving new Smoke Alarms or changes/relocation of existing Smoke Alarms. We can help you meet the Queensland Smoke Alarms Legislative requirements.
Fire Evacuation Diagrams and Plans
Don't know the difference between an Evacuation Diagram and a Plan. Need help with staff training. Fortifire's purpose built software helps us to quickly and efficiently implement cost effective solutions.
About Us & Why We are
The Best For the Job
Fortifire is a Fire, Plumbing and Electrical Services provider based in Townsville, delivering to customers throughout the state.
Depending on site requirements, Fortifire will aim to send one highly qualified, multi-skilled and experienced technician. This means less interruption to your business, less risk, and more efficient service delivery and reporting. We want to offer our customers a positive experience including:
– value for money
– a high standard and quality of work
– reliable and accurate records of service
– timely service delivery
Experience, Qualifications and Licenses
| | |
| --- | --- |
| Queensland Building and Construction Commission (QBCC) Licence (Multiple Categories) |    1211803 |
| Electrical Contractors Licence |     74034 |
| Security Licence    |     3574096 |
| Fire Protection Association Australia (FPAA) Code of Practice Compliant – Corporate Member |     YES |
| National Fire Industry Association Member |     YES |
| Master Electricians Australia Member |     YES |
| Australian Communications and Media Authority (ACMA) Open Cabler Licence |    YES |
| Extinguishing Agent Handling (EAHL) Licence |     YES |
| VESDA (Very Early Smoke Detection Apparatus) Accredited |     YES |
| Hazardous Substances Training |     YES |
| Public and Products Liability Insurance |     YES |
| Professional Indemnity Insurance |     YES |
| Blue Card for Child Related Employment (for Employees) |     YES |
| National Police Check (for Employees) |     YES |
| General Construction Induction (for Employees) |     YES |
Chep Townsville & Cairns
May 2020 – Chep required customised Automatic Fire Detection and Alarm System soultions to suit the diverse environments within their facilities.
Office and Ammenties
External Air Conditioner Plant
Hot, dusty prodcuction area
Noisy workshop environment
High humidity
Hot Climate
Reliable operation
No Unwanted Alarms
Excelsior Library (CTRC)
April 2020 – Charters Towers Excelsior Library is the local library in Charters Towers in North Queensland, Australia. The building is a reconstruction of the original Excelsior Hotel which burned down in 1995. After 25 years, it was time to upgrade the Fire Alarm System and detection devices.
Microprocessor Addressable FIP
Resilient Sealed Heat Detectors
Smart Addressable Smoke Detection
New Alupanel Zone Diagram
Enhanced Occupant Warning
Queensland Country Bank Stadium
February 2020 – North Queensland's new 25000 seat, multi-purpose regional stadium. Fortifire provide Passive Fire Installation and Certification Services, working hand in hand with various trades to identify suitable approved solutions.
Plumbing
Electrical
HVAC
Beveage Delivery Systems
Data and Communications
Sound and Visual
Builder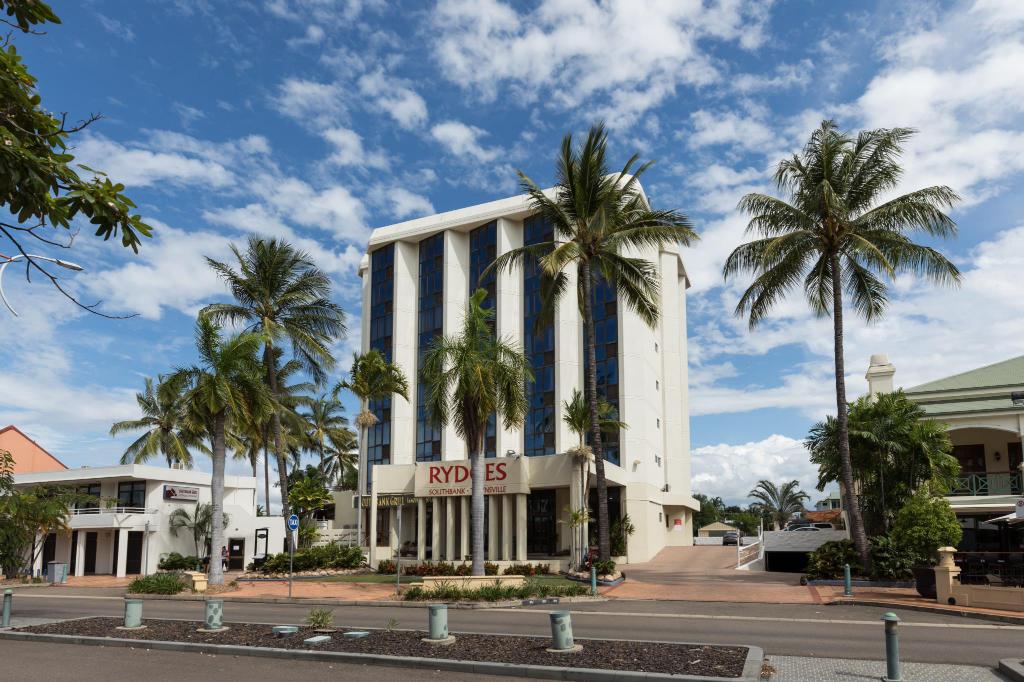 Rydges Hotel Townsville
October 2019 – A seven storey hotel with Ground Floor Retaurant, offices, reception and ammenities and a basement car park. Rydges were looking to upgrade to a modern state of the art Automatic Fire Detection and Alarm System.
Microprocessor Addressable FIP
Intelligent Algorithm Detection
No Unwanted Alarms
Improved Occupant Warning 
Seperate Public Address System
Castaways Mission Beach Resort
2015-2019 – A stunning seaside location that presents demanding Fire Detection challenges. The resort needed Fortifire's help with a Fire System that was constantly false alarming. Fortifire quickly identified poor standards of workmanship by previous contractors and immediately reduced the incidence of alarm activations. We then work with site management to forecast and budget for a staged upgrade of the system. Today, instead of daily false alarms, the resort's fire system is stable and reliable.
New Microprocessor based panel
Approved Sealed Heat Detection
Compatible Smoke Detectors
Resolved poor wiring issues
Installed weether resistant devices
On-time monthly maintenance
Staged works to suit budget
Since Fortifire has taken on Dalrymple Villa, we have received nothing but the best quality of service, to be able to have the same contractor performing  tests and audits is a bonus as it provides continuity of service without the stakeholder setting times, dates etc. and I know if and when I am not on the premises all goes to schedule. I have no areas of concern and I would highly recommend Fortifre's services.
We love working with Fortifire. The new fire doors look great and are a fantastic addition to our Garbutt centre's safety measures. The technicians are experienced and easy to deal with. We would highly recommend Fortifire's services if you are looking for a high standard, quality product.
Address
Unit 1, 9 Keane Street
CURRAJONG QLD 4812
AUSTRALIA
Phone
OFFICE +61 7 4773 4004
MOBILE +61 4 000 11 665
Fire Protection, Plumbing and Electrical Contracting Services. Fire Protection Equipment Maintenance, Repair, Installation and Alterations. Fire Alarm Systems,
Gaseous Suppression Systems, Smoke Alarms, Emergency and Exit Lighting,Fire Extinguishers, Fire Hose Reels,Fire Hydrants,Fire Doors and Shutters,Marine Suppression Systems,Vehicle Suppression Systems,Electrical Work – Domestic and Commercial. Building Fire Safety Audits.
Fire Services Maintenance,Fire Safety,Fire Protection,Smoke Alarms,Fire Extinguishers,Fire,Maintenance, Repair, Installation and Alterations. Fire Alarm Systems,Gaseous Suppression Systems, Smoke Alarms, Emergency and Exit Lighting,Fire Extinguishers, Fire Hose Reels,Fire Hydrants,Fire Doors,Marine Suppression Systems,Electrical Work – Domestic and Commercial,Building Fire Safety Audits.
Plumbing, Leak Detection, Blocked Drains, Drainage, Backflow Prevention Valve, BFPV, Thermostatic Mixing Valve, TMV, Hot Water Systems, Roof Gutters.
 Fire Protection and Electrical Services in Townsville, Ayr, Ingham, Innisfail, Cairns, Mackay, Bowen, Cannonvale, Mission Beach, Charters Towers, Mount Isa and surrounding areas.
 We provide appropriately qualified and licenced technicians. See our website for more detail or contact us. We offer 24 hour call out service to our contracted customers.
 A full range of inspection and testing services to meet legislative obligations.